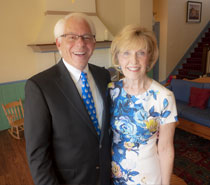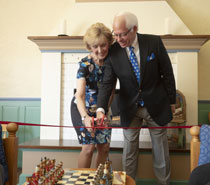 LOVE AND LINDSBORG
This is a love story. It is a sweet story and one you are now part of. Stick with me and I'll explain.
The setting is Lindsborg, Kansas 1967. The characters are two college students attending Bethany College. The leading lady, Marty, short for Martha Ann, grew up in Prairie Village, Kansas with two older brothers. Marty's decision to attend Bethany College was a tender one. Marty's mom had attended an event at Bethany and fell in love with the campus and the small town of Lindsborg, Kansas. After losing her mom at the young age of 17, Marty felt drawn to Bethany as a way to honor her mom and chose a path that she knew her mom would love and encourage. The leading man, Mark, grew up in Golden, Colorado. Mark had an opportunity to visit Lindsborg as a teen for a youth ministry event and it made a strong impression so when the time came to select a place to study, Bethany College was an easy choice.
In the fall of 1967, Mark spotted Marty at a basketball game, and it ignited the beginning of their story. When they first met, Marty was a junior studying Education. Mark was a new Freshman, studying business and also playing on the Bethany Swede football. The new couple quickly realized they were completely smitten. Mark and Marty were married in 1969. Marty taught elementary school at Soderstrom Elementary here in Lindsborg for two years while Mark finished his degree. It was not long before they started a family. Katie entered their story in 1971 followed by Kristie and then Kim. They moved to Wichita and then to Plano, Texas where Mark began his own financial planning business. The business thrived and so did their family. The girls grew up, married and gave Mark and Marty six precious grandchildren. In 2018, Mark sold his company and as he likes to say he didn't retire, he re-fired. In the summer of 2018, Mark and Marty bought the old Swedish Country Inn, the building where the Dröm Sött Inn now occupies. For the next year, Mark and Marty poured themselves into the renovation and development of the new Inn. In May of 2019, the new Dröm Sött Inn celebrated their grand opening with the town of Lindsborg, family and friends. During the summer of 2019, Mark and Marty celebrated 50 years of marriage with a trip to Sweden.
The magic that drew Mark and Marty to Lindsborg over 50 years ago is still here and stronger than ever. It is the incredible people, their genuineness, kindness and loving spirit. It is the creativity of the people and the way it is shared and expressed within the community. It is the distinction that as our world grows, technology booms, and information explodes, the uniqueness of Lindsborg remains. Lindsborg has managed to hold on to the small-town values of yesteryear. Its people know and practice what is truly important: loving the Lord, loving each other and loving and taking care of their unique heritage and customs. As Mark and Marty stroll down Main Street, there is always a cheerful, "Hello" and often a warm embrace. They recognize that Lindsborg has something unique and special and that can only be described with the word, HOME. Lindsborg is like home; there is simply no place like it. Mark and Marty's passion is to bring new life to Lindsborg and to share this magical place with all those who chose to visit.
So, as you see you are now a character in the love story. You are here in Lindsborg at the Dröm Sött Inn and continuing the love story of where Mark and Marty met and where they now hope to share their love of this precious little town. Our hope and prayers are that you experience a glimpse into what makes this place so special. Enjoy your stay and we wish you dröm sött.