Välkommen!
Happy 4th of July!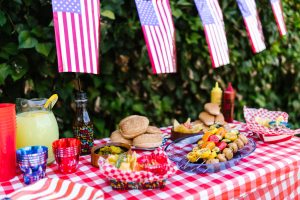 Happy Independence Day! Folks in Lindsborg like to celebrate the Fourth of July with parades, entertainment and concessions. Come join the fun! Here is more information on various activities in Lindsborg. If you haven't celebrated the 4th in Lindsborg before, there is nothing like a small town celebration! Come stay with us and book a room now to be able to enjoy the fun and activities!
Enjoy Bedtime Stories' 10th edition!
From the Owners of Dröm Sött Inn: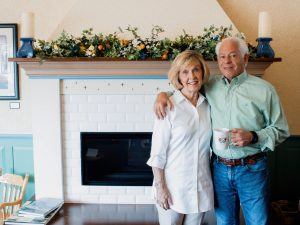 Mark and Marty Schupbach, the owners of Dröm Sött Inn, want to say thank you to all of the guests that have shown their support and excitement since the 2019 renovation. It has been their joy to read all the raving reviews you have written. They also love getting to hear the staff talk about the wonderful people that come and share fun stories with them over breakfast or as they sit in the lobby in front of the fireplace. (Pictured above). They hope you come back often! You might occasionally see them eating breakfast with guests and introducing themselves to them. They love meeting you and are so grateful to all of you!
We're going to the chapel and we're going to get married…
Dröm Sött Inn wants to make your wedding week/weekend as special as possible. Look at this beautiful bride on the stairs of the inn! Did you know that you may rent out the entire inn for your wedding party? There are 18 fabulous rooms and the VIP Suite is perfect for getting ready and used as a gathering place. The key is to book early to guarantee we have the space available. See more pictures below of how both Lindsborg and Dröm Sött Inn can be the perfect place to get married. Coronado Heights, Sundstrom Convention Center, and the Sandzen Museum are all places to help celebrate. There are also some beautiful churches in town as well. Thank you to the bride, Racquel Otero, for the pictures. You can find the photographer by using @kristinelisephoto on Instagram and Facebook.
Bedtime Stalling Tactics…Send us your photos!
We love seeing pictures of your trips to Lindsborg while staying at the inn. Please send us any pictures that we could include in our newsletter or on our social media pages. Thank you! And be sure to follow @dromsottinn on Instagram & Facebook!
Look forward to seeing you soon at Dröm Sött Inn! Make plans now to get your Swedish experience in Lindsborg, Kansas. Book now… Little Sweden, USA awaits!